As I write this post, it is Friday. So Happy Friday to you if you happen to read this on a Friday! :)
Today, we are finally able to get to drink recipes. We have gone through a lot of fundamentals up until this point, and now, we will cover the actual cocktail making for you to start becoming a real bartender.
Today's lesson will focus on highball drinks. Highball drinks are some of the most popular drinks at a bar, and you will be making these drinks a lot as you bartend. Highball drinks are real simple drinks, usually combining a base liquor with one or two juices in a tall (highball) glass. They are also great party drinks, so if you're setting up a home party, you can set up your home bar to serve highball drinks, and that will be sufficient in most cases to make your party rock.
The reason why highball drinks are so popular is because of its simplicity. People tend to remember the name and taste of the cocktails. Also due to the simplicity, bartenders aren't able to screw it up, so you have quality control built in to it. Overall, highball drinks are refreshing, not too strong, and has great flavors for people of all ages to enjoy. For these reasons, you will get a lot of orders of highball drinks in your career as a bartender.
Here's a quick review on what a highball glass looks like.
It's basically a tall glass that's a bit skinny. There are many variations to the theme. Here are some more pictures of a highball glass.
Another skinny one with a heavy bottom.
This one has a different shape. One of an old school classic cocktail glass.
And lastly a curved highball glass.
So as you can see, there are many variations to what a highball glass looks like. The drinks that we will cover today will all need to go into an highball glass.
It is going to be your responsibility to remember that all the drinks we cover today must go into a highball glass.
This is very important because a customer will expect you to serve the drinks we cover today in a highball glass. If you don't serve it in a highball, they may feel ripped off, which translates into a) won't tip you as much, and/or b) just won't come back to you for seconds. So remember that the drinks we cover today must go into a highball glass.
Constructing a highball drink is pretty easy. The steps are:
Grab a highball glass

Fill it up with ice

Pour base liquor

Fill it up with juice, soda, or mix

Serve
Here's a video on how to make a highball drink.
The bartender on the video makes an actual Highball Cocktail which is Whiskey and Gingerale. The point of the video is to show you the methods of making a highball drink.
Now that you know how to make a highball drink, here are some recipes for you to memorize.
Highball Cocktail Recipes
Vodka Based:
Fuzzy Navel
Melon Ball
Harvey Wallbanger
Top with 1/2 oz. Galliano
Garnish: Celery, Lime, Lemon
Moscow Mule (Modern Version)
Top with 1/2 oz. Grenadine
Top with 1/2 oz. Blackberry Brandy
Top with 1/2 oz. Galliano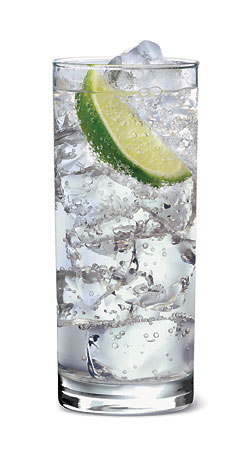 All right, these are usually the most popular highball drinks that you will need to memorize to become a bartender. As mentioned before, customers will ask you to make these cocktails a lot. So be sure to memorize all the recipes so that you will be able to make it quick. You should not have to refer back to your bar book to check back on the ingredients for these cocktails.
To memorize, I've used index cards when I was starting out. Or I would just continuously write them down on a piece of paper, which seemed to have helped me. Whatever your style of memorizing, use it now to memorize these drink recipes.
Also, if you have the luxury, I would recommend you go out and make these cocktails for yourself to get an idea of what each of them tastes like. It does help to understand how each cocktails taste so that you will be able to make it well for your customers.
A point to note here is that with a variety of highball drinks that exist in the market today, not all have the same volume. Some highball glasses are smaller in volume compared to others. Smaller glasses will mean stronger drinks since the proportion of juice to alcohol will be less. Play around with the glassware that you will be using to get the best consistency for your cocktails.
The point of this lesson is memorization. Memorize all of these cocktails and its ingredients. These are the most popular drinks when it comes to bartending, so it is worth your time to do so.
Okay, good luck studying, and until next time, Cheers!