Hi everyone! Thank you for coming back to
Free Online Bartending School
!
We're trying to make this the #1 place to learn about bartending online for free.
In this lesson, we're going to deviate a little from our recipe memorization, and talk about liqueurs.
Liqueurs are different from liquors. It sounds really similar, but they are different.
Liqueurs are alcohol that is lower in alcohol content than liquors. They are typically sweet. And they have been flavored with some kind of fruit, herbs, nuts, or cream.
Liqueur, typically is heavier compared to a liquor since they have sugar added to it. A lot of the liqueurs are actually very sweet, and are almost syrup like. A popular example will be Bailey's or Kahlua.
Anyway, let's go ahead and start going over some of the most common types of liqueurs.
Triple Sec and Similar Tasting Liqueurs
Triple Sec - Orange flavored liquor with sugar. Very syrup-like and used to sweeten cocktails. This is a very popular ingredient to use for cocktails, and you will be using it a lot to mix drinks with.
Blue Curacao
- Similar to Triple Sec, just blue in color. Used to make a Blue Margarita or a Blue Hawaii.
Orange Curacao - Very similar to Triple Sec. Personally, I've never understood the difference between the two. Some people have claimed that Orange Curacao is a tad sweeter, with more orange flavor. However, once you mix them into a margarita, it's pretty difficult to tell if it's Triple Sec or Orange Curacao. It's like Pepsi and Coke in my opinion.
Cointreau - Similar to Triple Sec, just made in France. The taste is subtlely different compared to Triple Sec, and it has more alcohol content in it (40%). Cointreau usually cost a little more, so we usually end up using Triple Sec as substitute in the United States.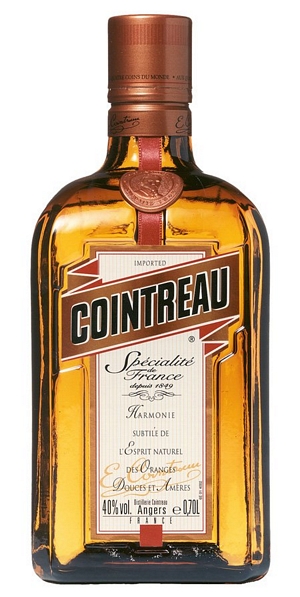 Patron Citronge - Triple Sec like liqueur made by Patron. I personally thought that this one has a distinctive taste compared to Triple Sec. It has a stronger alcohol content, and some bars use this to make their margaritas with.
Creme de... Liqueurs
Creme liqueurs are very sweet liqueurs designed to add flavor into your cocktail. Easy way to think of them are like the syrup shots that we're able to get for our coffee at Starbucks. They are very similar to that in characteristics - just with alcohol in it.
Creme liqueurs are confusing, because it sounds like it includes cream in it. This is not true. The creme just refers to its consistency, which is very syrupy. There are no cream added to the liqueurs.
There are three major brands in the United States that produce creme liqueurs. They are BOLS, Hiram Walker, and Dekuyper. Hiram Walker is usually the most popular, and it is found at most bars in the United States.
Creme de Cassis - Blackcurrant flavored liqueur. Some light drinking girls like to drink Creme de Cassis with soda. It's a light in alcohol, and tastes great.
Creme de Cacao - Chocolate flavored liqueur. It's been used these days to make a chocolate martini. The intense chocolate flavor will surprise you when you first try it. Creme de cacao comes in clear and brown in color.
Creme de Menthe - Mint flavored liqueur. A well known cocktail is the grasshopper. There's also a shooter called the Girl Scount Cookie which is really good using this liqueur. Creme de Menthe also comes in two colors - clear and green.
Creme de Almond (Noyaux) - Almond flavored liqueur. Used for some tropical drinks like the Zombie. This is probably not the best practice, but I have substituted Grenadine in place of Creme de Noyaux when it was unavailable.
Creme de Banana - Banana flavored liqueur. Used for drinks like the Banana Daiquiri, or tropical cocktails. Depending on the bar you work at, you will either use this a lot, or not at all. Girls like drinks made with this liqueur since it's very sweet and easy to drink.
Sloe Gin - A berry like liquer made from sloe berries, which are a relative to the plum. Sole Gin is used for Sole Gin Cocktail, but overall it isn't a very popular liqueur, and you will only use it a few times a day even at a busy bar.
Coffee Liqueurs
Coffee liqueur seems to be a product of Mexico. They are a sweet flavored drink which tastes great when you mix it with milk or cream. Two major brands of coffee liqueur are Kahlua and Tia Maria. There are of course many more brands when you cruise on down to Mexico. It seemed like every tequila manufacturer down in Mexico, also produced a coffee liqueur.
Kahlua - Most popular brand when it comes to coffee liqueur. Mix it with milk for a Kahlua & Milk, or make a White Russian with it. Very tasty drink.
Tia Maria - A coffee liqueur originally made in Jamaica. When I tried it, Tia Maria tasted similar to Kahlua. I just stuck with Kahlua since it is the most popular brand. Tia Maria is made with rum.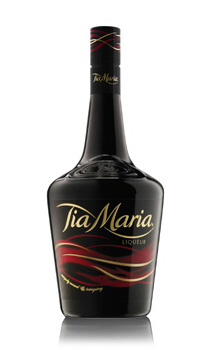 Starbucks Liqueur - Starbucks have recently joined in on the popularity of coffee liqueurs by coming out with their own brand. It comes in two flavors coffee and cream.
All right, since this post is getting a bit long again, I'll make this into a 3 Part Series to cover all the liqueurs. As always, I do like to recommend going out and actually trying out the liqueurs since you need to internalize these things in order to become a good bartender.
Also, as a side note, I've posted something I thought was interesting yesterday.
I hope to periodically post things I find interesting that relates to our overall objective.
Okay, good luck studying, and until next time, Cheers!